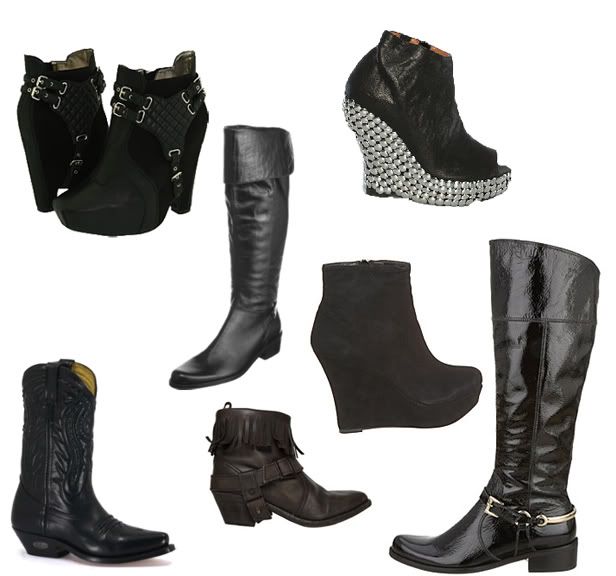 Boots are occupying my thoughts alot the the minute and im really having to refrain myself.

The boots in the collage are all my objects of desire:

A black pair of vintage cowboys boots. I collect vintage cowboys and black are missing from my brood. US ebay is always my first stop.

Sam Edelman harness boots. Im not going to fork out over £200 for them though.

Riding boots, both pairs pictured are from Dune, the matte black leather look nice on and the cuff folds up to cover the knee. The second pair are lovely shiny black patent leather with gold spur harness on the heel. Im loving the heel detail and the patentness although I like the option of over the knee on the other boots. Which do you prefer?

All saints fringe harness ankle boots. These have been on my wanted list forever, i'll just have to keep my eye out on ebay for a pair in my size, they look so comfortable and would wear really well.

Office black wedge ankle boots. These look really good on, they are as light as a feather and un-believably comfy, the only thing stopping me from shelling out £80 is they are suedette. I can't get my head around charging £80 for fake suede or leather.... Not going to happen even if they do look amazing.

Jefferey Campbell studded ankle wedges. How soft does that leather look and I love the studded sole - makes a bit of a difference to all the studded toes and heels around. The peeptoe isn't very practical in the British winter so im going to DIY a pair of boots myself - watch this space!!