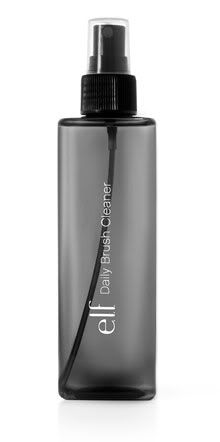 I have to hold my hands up and admit I am terrible at shampooing my make-up brushes, I always think, I'll wash them at the weekend and then conveniently forget..! My brushes aren't heavily used infact my blusher brush is the only brush that is used daily. Foundation, bronzer and eyeshadow are more likely to be once a week. I decided to try a daily brush cleaner and finally ordered one before Christmas and have been using it for a few weeks now.
I chose between the Bare Minerals daily brush cleaner 133mls £6.99 and the E.L.F version 250mls £3.50. For nearly twice as much and half the price I chose the E.L.F cleaner.
This product is a god send for someone like me - two sprays on the brush and a wipe over clean tissue or a cotton pad and you can see the colour coming off, I then leave in to dry. It even worked on my angled brush I had put gel liner on.
It does have a reasonably strong smell, quite medicated which I personally like and the brush really does feel clean the next morning when I go to use it.
You can buy the spray cleaner here and for £3.50 its well worth a try. http://www.eyeslipsface.co.uk/product~prodID~168.htm