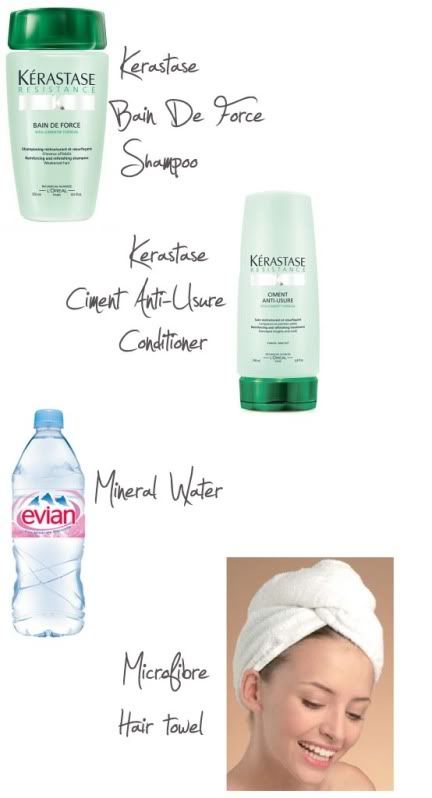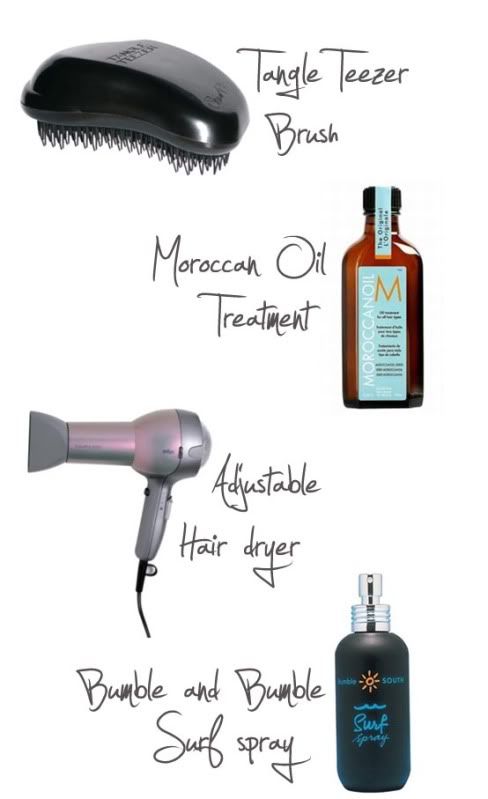 My favourite products shown above and the routine I use to keep my hair healthy.
Shampoo - with Kerastase, twice as I only wash my hair three to four days.

Conditioner - Smooth an even layer over the head massaging in and working down to the tips with Kerastase, leave for five minutes if possible.

Rinse - with mineral water just on your last rinse and you will notice a difference. (it doesn't have to be evian! any cheap supermarket mineral water is fine)

Wrap with a micro fibre hair towel until just damp.

Comb gently through using a tangle teezer working each knot out softly.

Protect and enhance smoothing Morrocan oil through the mids to end and comb through again.

Air dry if possible once a week.

Use a hair dryer with various hair settings and only start drying when hair is lightly damp.

Likewise with hair tools, try and use tongs or straightners with adjustable heat settings.

Finish with minimal styling products - a quick spritz of hairspray, shine spray, beach spray or texturiser. My choice is bumble and bumble surf spray.
My hair heroes I absolutely couldn't live without are the Tangle teezer - if you don't have one you should have!! They are brilliant at getting out any tangle without any pain.
The next is Moroccan Oil. I have just started using this as my new hairdresser used it on my hair, being an oil I thought it would weigh down my hair ( I have fine hair but loads of it) but it left my hair so smooth, and shiny and incredibly soft without weighing it down at all, in fact I would even say it had more bounce after using it. The oil is absorbed by your hair and even speeds up the drying process - brilliant! If you fancy trying it but don't want to pay the £29, you can buy a trial mini bottle which was £12, it also comes in a light version too and I will definitely be going back for a full size when it runs out.
The products that just missed out were the Touch of Silver shampoo and conditioner I have blogged about here and the Kerastase Ciment Thermique which is a treatment you smooth in after towel drying your hair off, it works to protect your hair from heat damage and works with your straightners and hair dryer. I know i'll go back to using this but for now im really happy with my new Moroccan oil and can't stop raving about it!