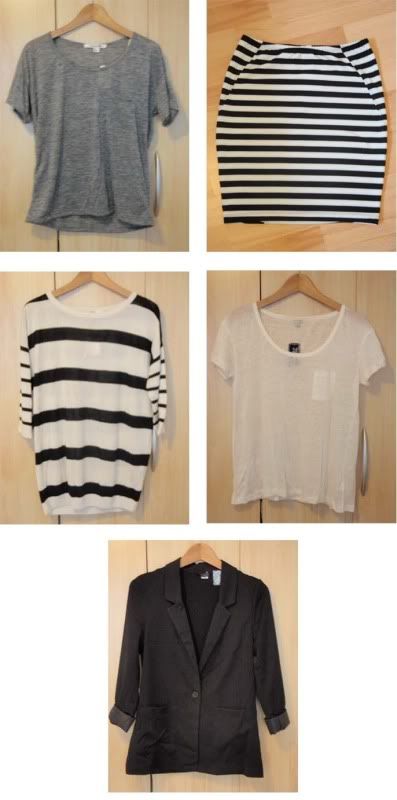 These really are basic basics as my forthcoming travels as swallowing up nearly all of my disposable cash.
I desperately needed a couple of throw on loose tee's to be worn with, shorts, skirts, and jeans. Both were from Forever 21, the cream is a sheer very fine knit and the grey is jersey. £14.80, £13.80.
The striped skirt is another Forever 21 buy and is perfect for hiking up into a highwaisted mini or a more conservative pencil skirt. £7.50.
The fine knit striped jumper is perfectly slouchy, is thin enough to tuck in my shorts, loose enough and long enough to wear over leggings. From H&M. £9.99.
The blazer is also from H&M, I discovered neither of my other two black blazers aren't really doing it for me anymore so I wanted a fast cheap update, this ticks the boxes, and also comes in rust and grey and i'm going back for both at this price! £14.99.
Im still in need of some slouchy vests but i'm really struggling to find any at the moment, I think im a little to early in the year for a good selection.
Have you bought any great budget basics recently?